Travellers are locking in last-minute trips to Europe for the summer season, thanks to a second round of discounted deals from leading tour operators.
Flight Centre has partnered with the big names in the business, including Trafalgar, Insight, Cosmos, Contiki and Topdeck, to provide travellers with the greatest range of trips across Europe.
Significant earlybird savings can be found on departures in Italy, France, Britain, Germany, Ireland, Switzerland and more.
Check out the full range at
www.flightcentre.com.au/promotions/europe-earlybird-tours
See below for Flight Centre's suggestions.
CONTIKI - European Discovery
From $1536* per person, was $1659*, this 12-day tour maps out the best of Europe from the romantic canals in Italy to the icons of Paris and the landscapes of the Alps. Highlights along the way include a locally guided bike tour of Munich's famous landmarks, a private boat through
Venice
's canals, a sightseeing tour in Rome and Florence, a Paris by Night experience and more. The price includes 11 nights twin or triple-share accommodation, 11 continental breakfasts and 6 three-course dinners, local guided trips, services of an experienced English speaking tour manager and driver, transport in an air-conditioned coach, a ferry crossing and sightseeing as per itinerary. Departures scheduled from March 28, 2013 until March 18, 2014. Price is valid for sale until March 1, 2013.
TOPDECK - Greek Island Hopper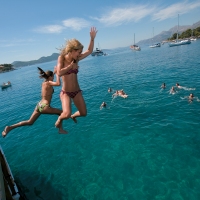 From $1383* per person, was $1495*, this 10-day island-hopping holiday starts in
Athens
and travels to Mykonos, Paros and Santorini, blending the perfect combination of fun, relaxation and culture. Travellers will be treated to a traditional evening in Athens on the first night, which includes an authentic Greek dinner with music and dancing, before navigating their way to the islands to shop, eat or party. The price includes nine nights' twin share accommodation at 4-star hotels in Athens, Mykonos & Paros, breakfast daily, one dinner, return transfers, transport by ferries between the islands, services of an experienced English speaking trip leader and walking tours. Departures are scheduled between April 12 and October 13, 2013. Price is valid for sale until March 1, 2013.
COSMOS - Hidden Treasures of Northern Italy
From $1159* per person twin share, this eight-day tour of Northern Italy travels from Milan to Cinque Terre, Parma, Pavia and Vigeano, before arriving at Lake Maggiore. Highlights include a guided city tour in Milan, the charming spa town of Salsomaggiore Terme, a visit to the Castles of Duchy and a full-day excursion to the romantic fishing villages of the Cinque Terre. The price includes seven nights' accommodation, buffet breakfast daily, six dinners, touring by private first-class air-conditioned motorcoach, a train from La Spezia to Monterosso, hotel taxes, portage, tips, and service charges. The trip departs on May 5, 2013. Price is valid for sale until March 1, 2013.
TRAFALGAR - Highlights of France & Barcelona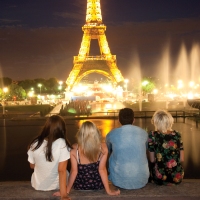 From $1989* per person twin share, was $2150*, this nine-day tour takes in the dazzling sights of Paris, Lyon, Cannes, Nice,
Barcelona
, Toledo and Madrid. Some of the highlights include the views across the Pyrenees, the charming castles of Loire Valley and the Papal Palace of Avignon, as well as the beaches of La Barcelonetta. The price includes eight nights in first class hotel accommodation, many meals, breakfast daily, services of a professional travel director, transport by luxury air-conditioned coach, hotel service charges and tips, baggage handling fees and local taxes. The tour departs on dates between July 5 and August 23, 2013. Price is valid for sale until December 28, 2013.
INSIGHT - Country Roads of Switzerland
From $3849* per person twin share, was $4165*, this 14-day tour travels from Lucerne to the summit of Mount Pilatus, Lake
Geneva
and into the heart of the Swiss Alps. The tour travels through fortified towns and flower-filled meadows, with highlights including a cog-wheel rail journey aboard the world-famous Glacier Express that offers panoramic views of the Alpine scenery. The price includes 13 nights' accommodation in premium hotels, breakfast daily, five dinners, travel by luxury coach with more legroom, guided sightseeing with an experienced Tour Director. The tour is scheduled to depart on dates from May 26 to September 15, 2013. Price is valid for sale until February 28, 2013.
All these earlybird Europe deals and more are available online at
www.flightcentre.com.au/promotions/europe-earlybird-tours
For bookings, phone Flight Centre on 1300 939 414 to speak to a travel consultant.
*Price is subject to change and availability at the time of booking.